Committed to Equity and Social Justice
Neurosurgery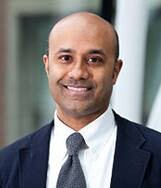 The COVID-19 pandemic is far from over. However, it's been with us long enough to clearly expose fault lines, inequities and deficiencies in virtually every sector of society. As a result, many have concluded there is a need for a "new normal" rather than a return to the status quo.
But what should that new normal look like? What lessons have we learned – or should we have learned – from the pandemic?
Writer Chris Sasaki, of the University of Toronto's Faculty of Arts & Science, recently put those questions to a range of experts at the university, including Dr. Sunit Das from the Division of Neurosurgery. Dr. Das shares his take on learnings from the pandemic including a physicians' duty to foster fairness and equity in medicine.