Jason Pennington
General Surgery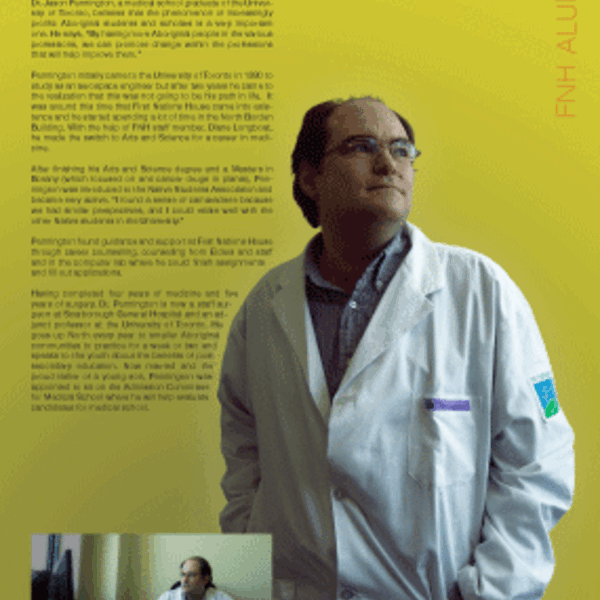 Location
The Scarborough Hospital - General Div.
Address
3030 Lawrence Ave E, Suite 511, Toronto, Ontario Canada M1P 2T7
Dr. Jason Pennington, a medical school graduate of the University of Toronto, believes that the phenomenon of increasingly prolific Aboriginal students and scholars is a very important one. He says, "By having more Aboriginal people in the various professions, we can promote change within the professions that will help improve them."

Pennington initially came to the University of Toronto in 1990 to study as an aerospace engineer but after two years he came to the realization that this was not going to be his path in life. It was around this time that First Nations House came into existence and he started spending a lot of time in the North Borden Building. With the help of FNH staff member, Diane Longboat, he made the switch to Arts and Science for a career in medicine.

After finishing his Arts and Science degree and a Masters in Botany (which focused on anti cancer drugs in plants), Pennington was introduced to the Native Students Association and became very active. "I found a sense of camaraderie because we had similar perspectives, and I could relate well with the other Native students in the University."

Pennington found guidance and support at First Nations House through career counselling, counselling from Elders and staff and in the computer lab where he could finish assignments and fill out applications.

Having completed four years of medicine and five years of surgery, Dr. Pennington is now a staff surgeon at Scarborough General Hospital and an assistant professor at the University of Toronto. He goes up North every year to smaller Aboriginal communities to practice for a week or two and speaks to the youth about the benefits of post secondary education. Now married and the proud father of a young son, Pennington was appointed to sit on the Admission Committee for Medical School where he will help evaluate candidates for medical school.