May 27-29, 2023
|
ALL DAY
Bethune Round Table in Global Surgery: Sustainability in Global Surgery
The Bethune Roundtable is an annual interdisciplinary meeting hosted at a Canadian academic centre to discuss challenges and solutions to improving surgical care to underserved and marginalized patients locally, regionally and globally. The objective of the meeting is to bring together health professionals from across disciplines to share their experiences in delivering safe surgery and anaesthetic care in low-resource settings. 
The theme of Bethune 2023 is Sustainability in Global Surgery. 

Date: May 27th to 29th, 2023 - Hybrid Meeting
Place: Peter Gilgan Centre for Research and Learning, Toronto
Register here.
Agenda and event details available at: www.bethuneroundtable2023.ca 
For more information, email: bethune2023@utoronto.ca

Keynote Speakers:
Dr. Abebe Bekele
Dean, School of Medicine at the University of Global Health Equity
Professor of Surgery, General and Thoracic Surgery
Governing Council and Chairman of Examinations & Credentials Committee, the College of Surgeons of East Central and Southern Africa (COSECSA)
Editor in Chief, East and Central Africa Journal of Surgery
Dr. Andrea MacNeill
Founder and Principal Investigator, UBC Planetary Healthcare Lab
Medical Director, Planetary Health at Vancouver Coastal Health
Staff Surgical Oncologist, Vancouver General Hospital and BC Cancer
Professor of Surgery, the University of British Columbia
Dr. Laura Donahoe
Medical Director, Medical Device Reprocessing Department, Unity Health Network
Program Director and Professor of Surgery, Division of Thoracic Surgery at the University of Toronto
Staff Thoracic Surgeon, Unity Health Network
Dr. Joel Parlow
Chair, Canadian Anesthesiologists Society International Education Foundation (CASIEF)
Professor, Anesthesiology and Perioperative Medicine, Queen's University
Staff Anesthesiologist, General and Cardiovascular, Kingston Health Sciences Center
Dr. Ifereimi Waqainabete
Member of Parliament and Minister for Health and Medical Services, Parliament of Fiji (2018 – 2022)
General Surgeon and Professor of Surgery, Fiji National University
Learning Objectives:
Understand the relationships between the United Nations Sustainable Development Goals and the Global Surgery field.

Recognize the dominant role of climate change adaptation and mitigation within the Sustainable Development Goals

Consider the unequal burden of climate-associated health impacts globally

Understand how to decarbonize health sector activities.

Acquire tools, technology, and techniques to make Global Surgery sustainable in the people, planetary, and economic domains.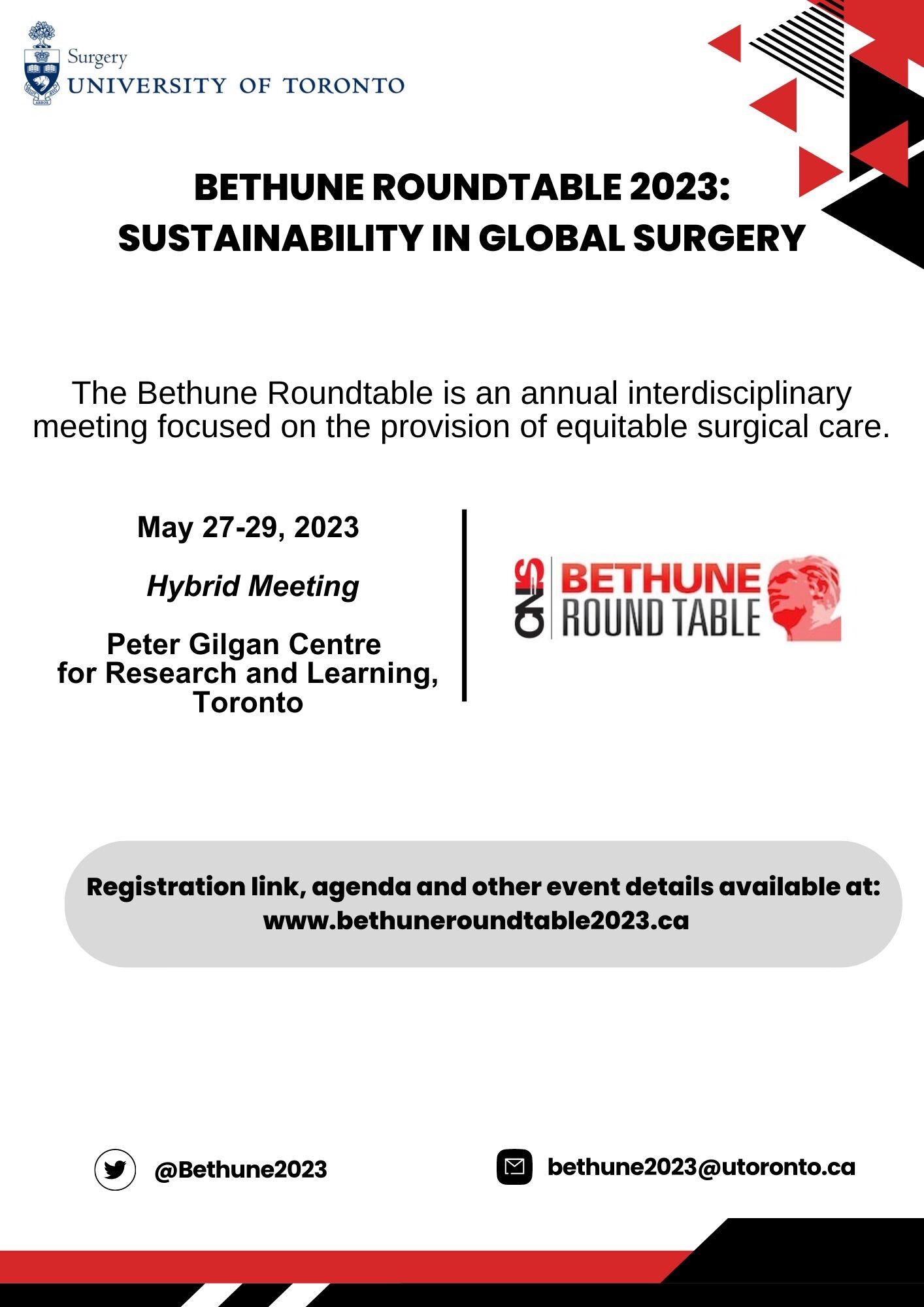 Contact
bethune2023@utoronto.ca