Department of Surgery Start-Up Pitch Competition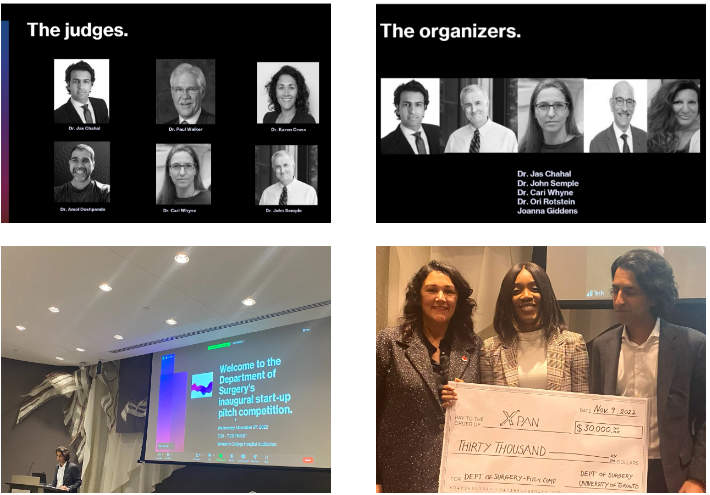 On November 9, the Department of Surgery hosted its inaugural start-up pitch competition.  With the call for submissions in the Spring of 2022, greater than 15 submissions were received. Finalists were selected based on the competitiveness of their team, the relevance and importance of their identified problem or unmet need, their solution, initial traction, presence of any intellectual property or competitive advantages, and financial plan.  Six high quality finalists were selected by a review committee for a chance to present for $30,000 of non-dilutive capital from the Department of Surgery.
Teams 
FrED: The FRagment Extraction Device
 
Dr. Monica Farcas, Dr. Bader Alsaikhan, Dr. Brian Carrillo, Joshua Tuazon, Jonguk (Justin) Lee

FrED's dual-lumen hydrophilic sheath is coupled with a feedback-controlled electronic pump system to completely clear the kidney of sand and residual stone fragments.

Xpan
 
Sonia Igboanugo, Dr. Priscilla Chiu, Dr. Rezende-Neto, Dr. Sunit Das, Dr. Laz Klein, Zaid Atto

Xpan's miniaturized, universal, and expandable trocar enables safe access and dynamic upsizing during convential, mini, and robotic procedures while reducing time and costs.

Peptide-based therapeutics for glaucoma
 
Dr. Paolo Koeberle and Dr. Alireza Shabanzadeh

This technology consists of peptides that prevent neuron degeneration. They are easily produced and readily available through intraocular injection or eye drops.

AISHA: Artificial Intelligence Supervisor for High performAnce and safety during neuroendovascular intervention
 
Dr. Vitor Mendes Pereira and Dr. Hidehisa Nishi

AISHA is a deep learning-based medical imaging application designed to be directly connected to the angiosuite system.

Arterial Solutions
 
Dr. Mohammad Qadura, Muzammil Syed, Dr. Ben Li, Dr. David Klein

Arterial Solutions is a cardiovascular diagnostic company seeking to develop accessible, novel, and robust tests. Current efforts focus on peripheral arterial disease.

CareShift
 
Dr. Albert Yee, Dr. Jay Toor, Dr. Johnathan Lex, Aazad Abbas, Manjot Sangha, Mckenzee Balcom

CareShift is a platform that directly connects hospitals with qualified healthcare professionals to address staffing issues, such as last-minute cancelations.
The judges for the pitch competition were Dr Amol Deshpande (Director, Health Sciences in Venture Services MaRS DD), Dr Paul Walker (Founder, Spectral Medical), Dr John Semple (Co-Founder, QoC Health), Dr Karen Cross (Founder, Mimosa Diagnostics), Dr. Jas Chahal (Co-Founder, Therapia) and Dr. Cari Whyne (Director, Holland Bone and Joint Research Institute). All presentations were excellent, inspiring, and highlighted the breadth of intellectual and human capital in the surgical innovation space in Toronto.  In the end, Sonia Igboanugo (medical student, University of Toronto) delivered an excellent pitch and took the prize home for Xpan – a start-up focused on developing expandable trochars and cannulas for minimally invasive surgical techniques. 
The future of innovation and entrepreneurship at the University of Toronto is brighter than ever. The Department of Surgery will continue to build a platform for the next generation of surgeon-innovators and we hope that our annual pitch competition will play an important role in this endeavour.
The recording of the event is available here.
Jas Chahal MD MSc MBA
John Semple MD